Last Friday night I made it out to
Sam's Burger Joint
for a night of live and local music. In all honesty, I wasn't sure what to expect; this was the first time I had seen all four bands, two of which I had never heard of before. I took a chance. And as it turns out, it was a night of great bands (one from Austin) with a couple of extra surprises as well.
Madex Thirteen
Madex Thirteen
were standing on the stage for a period of time before sound check, so I made my way over and briefly talked with singer/guitarist James. A real cool guy, he was obviously thrilled to be playing, but mentioned to me that it had been good while since the band last played a real gig. However, once they started their set,
Madex Thirteen
showed no signs of rust as they started the evening off to a propulsive start.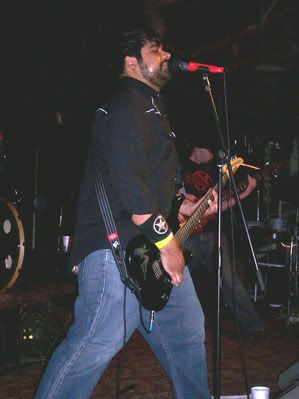 James & George of Madex Thirteen
What this three-piece plays is a very clean, very loud, and very energetic mix of rock and punk (or if you prefer, punk rock). Judging by their lyrics and the title of their latest CD,
Weapons of Mass Deception
,
Madex Thirteen
also seems to have a politically-conscious vibe as well. Of coarse, they weren't so political that the show was, you know, serious. On the contrary, songs like "Alone" as well as an untitled new song kept the band and audience in serious motion. During closer "WMD," with its awesome Sepultura-stlyed breakdowns, Dieboy guitarist, Andy, could be seen at the front of the stage taking pictures with a disposable camera. He was spotted by bassist George and quickly invited to sing backup.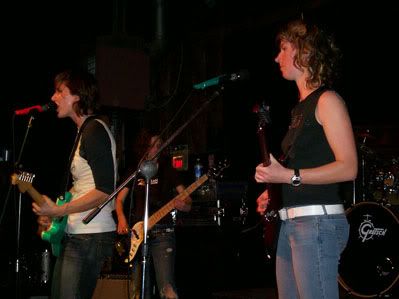 Beth, Rae, & Sarah of Echoset
Echoset
was from Austin and was generally an all-female band (with the exception of a male drummer). Singer/rhythm guitarist, Beth, wearing a Rolling Stones shirt, was a natural bandleader and had personality for days. She talked, joked with the audience, and took all the (harmless) heckling in stride. She also managed to get the members of the audience to leave their seats and come to the front of the stage for the band's set-closing jam out.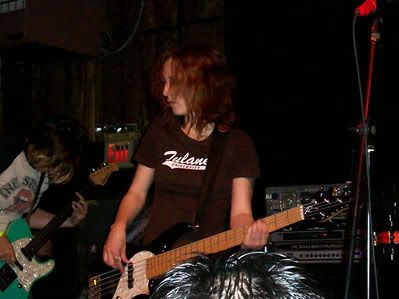 Beth & Rae of Echoset
Anyhow, if there's one thing that I want you to know about
Echoset
, it's that this band can play. Not in a Steve Vai virtuoso sense, mind you. Rather, they worked as a team to keep the music breathing and let the songs speak for themselves. It was a simple but effective formula: bass and drums find and keep a groove while both guitars, (mostly) non-distorted and crystalline, weave in and out of each other. Add Beth's soulful heartbreak vocals as well as Sarah's tasteful and seamless guitar leads, and you have a pretty good idea of how
Echoset
works. My favorite example of this formula had to have been "Patterson Avenue;" the setup and execution of the chorus left me with chills every time.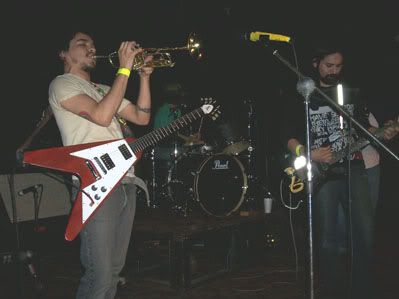 Andy & Robert of Dieboy
There's a lot to like about
Dieboy
, the band. For starters, they seem to carry a genuine family vibe. As mentioned earlier, lead guitarist Andy was invited to sing backup during Maddox Thirteen's set, and, later in the evening, James (Madex Thirteen) was invited to sing with
Dieboy
as well. In addition, during
Dieboy
's set, singer/rhythm guitarist, Robert, was totally at ease with the audience; he talked in a laid-back, natural (almost patient) voice as he spoke between songs and joked about, among other things, being a hippy playing punk rock music. The band even led the audience through a makeshift primal scream therapy session where everyone was encouraged (including Robert's mom) to basically scream out their week-long frustration using the F word.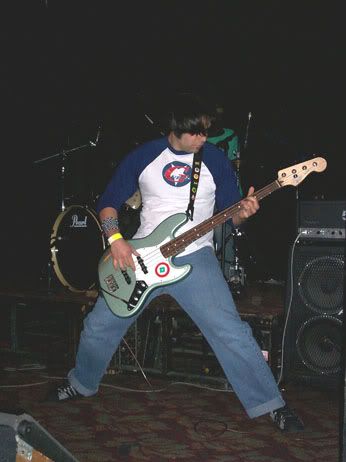 Jorge of Dieboy
There's a lot to like about
Dieboy
, the stage show as well. There was a lot of energy, especially from lead guitarist Andy, whose onstage maneuvers had him all over his part of the stage, reminding me of Angus Young. And although Robert did joke about it, the band did, in fact, play some punk songs. I missed the song titles, but one that I especially liked had a sing-a-long of "Radio" from the audience. But they were more than a punk band, as they ventured into alternative, pop, and rock music territory as well. My favorite song of their non-punk set had to have been "Chivalry." Although I can't be more specific with the song titles, I highly recommend that you check these guys out (at least look at their
MySpace
page and see what you think.)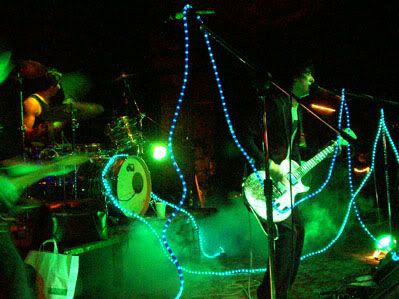 The Visitor
Within the first ten seconds I was a fan.
The Visitor
started off with "C'mon Get On C'mon Get Off," a wholly infectious garage rock vamp that hit me from nowhere and took me several days to shake off. Rich's vocals were also the perfect match of melody and reminded me a lot of Bono from U2 and sang of (my best guess) escape, or looking for freedom.
Stefan & Rich
The rest of the set was great as well. Again, I wasn't so sure about song titles, but the band did play a great set of pop, garage, and no frills rock and roll; highly recommended. In addition, Rich (who apparently was a member of the Love Junkies at one time) was a great front man as well. Behind the string of blue lights that were hung from the mic stands, Rich shot several unintentionally hilarious one-liners through the entire set like most great front men do; he was a natural entertainer.
---
Shows
Madex Thirteen
March 25...
Black Lion
Echoset
March 31...
Sam's Burger Joint
Dieboy
March 31...
Sam's Burger Joint
The Visitor
April 8...
Sam's Burger Joint